Back
Hanging Signs - Cube
Cube warehouse signs to hang overhead for marking locations and areas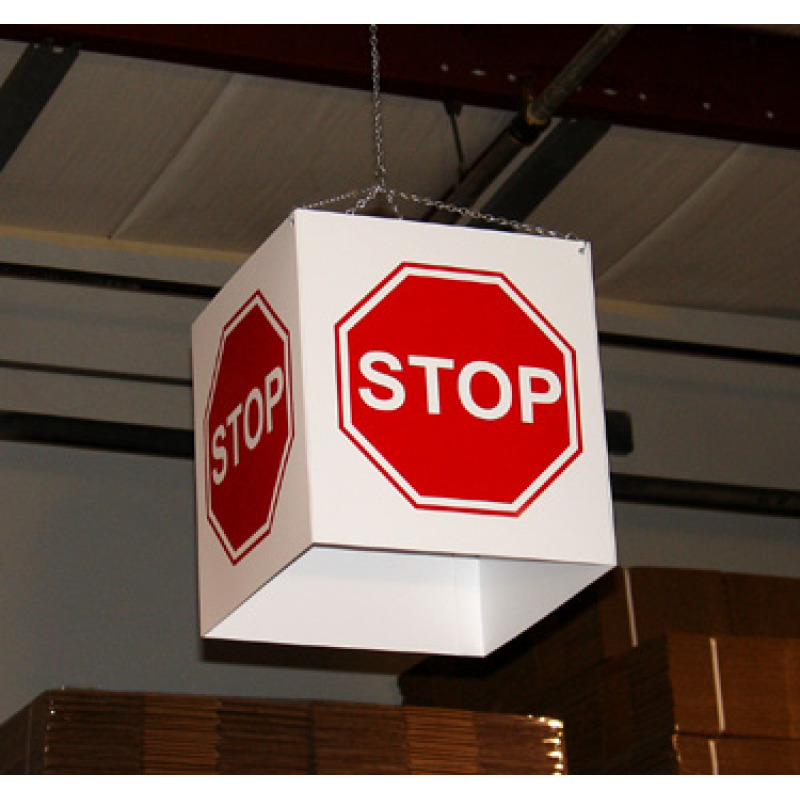 Hanging Signs - Cube
Cube warehouse signs to hang overhead for marking locations and areas
Custom cube signs suspended from a ceiling, beam, or above an area
View or scan from  4 sides
Lightweight and durable .04" thick   white, yellow, blue, red or green plastic
Apply color lettering, bar codes, symbols, arrows, graphics to these custom cube hanging signs
Custom Orders
Select Quote Lettered Signs next to the Part # below and fill out the form provided.
We will send you an email with a price quote.
You approve/revise and place your order.
Sizes & Pricing
Step 1: Select Part # or Quote Lettered Signs
Step 1: Select Size
* Sign colors: yellow, blue, red, green

Signs are shipped flat, simple assembly is required
Sign letters, numbers, graphics and bar codes are priced separately -
see Sign Distance Chart for readability ranges
Larger signs also available - call for more information
Additional Information
Detailed Description
Cube Style with 4 faces - suspended over areas, 360 viewing angles
Box Warehouse Aisle Sign Applications

Locating warehouse aisles and racks - see picture at top 
Hanging bar codes under racks and shelves
Suspending markers over conveyors, flow lines, and bays
Identifying docks, bays, work areas
Scanning bar codes above warehouse racks - angle is adjustable for readability

Custom Cube Hanging Sign price includes - hanger hook, chain from sign to hook, edge stiffeners on larger size
Technical Specs
Service temperature range =  -40F to +150F
This Box Warehouse Aisle Sign is for indoor use 
Custom hanging signs are shipped flat, simple assembly may be required. 
Back
Sizes & Pricing
Step 2: Select Part # or Quote Lettered Signs
Back to sizes